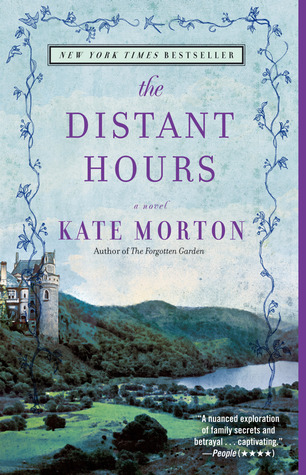 The Distant Hours
By: Kate Morton
Published: July, 2011
Published By: Washington Square Press
Format Read: Trade Paperback
Genre: Historical Fiction, Mystery
Date Read: July 26, 2016
Rating: 3/5
Edie Burchill knew very little about her mother's past until a letter that had been lost in the mail decade before, was finally delivered. She learns that as a girl, her mother Meredith was evacuated from London, when World War II was declared. She was taken in by three sisters living in a castle that had been in their family for generations. Mystery surrounded their father and the book that made him famous. What were the origins for the Mud Man story? Edie's curiosity gets to the best of her and she begins an investigation of her own, despite her mother's refusal to talk about the past.
The Distant Hours has been one of my anticipated reads for some time now. I had previously read and loved Kate Morton's The Forgotten Garden and The Secret Keeper. So naturally I had very high hopes for this novel.
Dual time period stories are among my favourites to read. I was pleased to discover that this one covered several decades. The plot switched back and forth between 1992 and World War II. It also told about the secluded childhood the three sisters endured.
Kate Morton's knack for writing beautiful descriptions made for a story that was very richly detailed.
Unfortunately The Distant Hours was a bit too detailed for my liking and I found that the plot moved along at a snail pace. While I liked the mystery and uncovering the truth behind all the secrets, I just wasn't captivated like I hoped I'd be. In fact I couldn't seem to motivate myself to read this book and so it took me quite a while to finish.
I would definitely recommend Kate Morton as an author, however The Distant Hours isn't one of my favourite books by her.