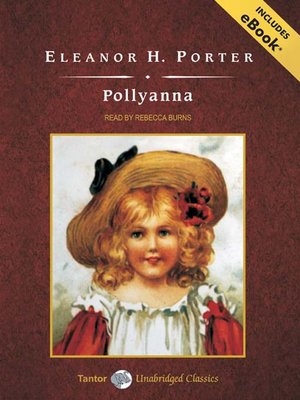 Title: Pollyanna
Author: Eleanor H. Porter
Narrator: Rebecca Burns
Published: December 2006 (Originally Published 1913)
Published By: Tantor Media
Format Read: Audio Book
Genre: Classics, Children's Literature, Fiction, Historical Fiction
Date Read: September 10 2015
Rating: 5/5
After the passing of her father a poor missionary, Pollyanna now orphaned is left in the care of her local Ladies Aid. They connect with and arrange for the young girl to go live with her Aunt Polly in a town called Beldingsville Vermont. Polly, a wealthy spinster isn't known for being the most friendly person yet she takes her niece in out of a duty to her deceased sister. Sweet Pollyanna wins over the hearts of the townspeople with her "Glad Game", encouraging others to see the bright side of bad situations. Can she win over the cold heart of her Aunt as well?
Pollyanna with her innocence and kind heart has become one of my favourite literary characters. I must admit she has even surpassed that of Anne Shirley and Heidi. I just feel in love with this story and didn't want it to end. Although there were parts of the story that was unfortunate and sad, this brought about a calm peaceful reading experience, which was a refreshing departure from more heavy content.
Although Pollyanna was first published in 1903 and some may think that the language is outdated, I think that this is an important book in children's literature. The "Glad Game" would still be a great way to teach appreciation to young and old.
Initially I wasn't sure I would like the voice work of the narrator, but I was able to adjust to it as more characters were introduced. Still I think that I will enjoy this book even more in print form and so I do intend to purchase a copy for myself. I have also learned that there are more books that follow Pollyanna as she grows up.
I would recommend this book to anyone who enjoys classic children's literature.