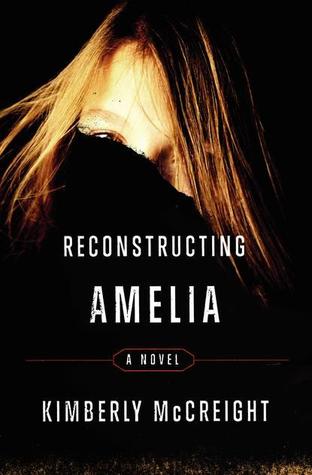 Title: Reconstructing Amelia
Author: Kimberly McCreight
Published: April 2013
Published By: Harper
Format Read: Kobo, eBook
Genre: YA Lit, Contemporary, Suspense, Thriller, Mystery
Date Read: May 20 2015
Rating: 3.5/5


Reconstructing Amelia is the debut novel by author Kimberly McCreight. It follows a mother reeling from the devastating death of her daughter. On a busy day as junior partner at a New York law frim, Kate receives a call from her daughter's school telling her that Amelia has been suspended for plagiarism and she must come pick her up. Upon arriving, she learns that 15 year old Amelia has committed suicide by jumping off the roof of her private high school. Weeks after Amelia's devastating death, Kate beings to receive anonymous text messages telling her that her it wasn't a suicide after all. She then begins to launch an investigation into what really happened. Readers follow the grieving mother as she learns of her daughter's involvement with a secret club called the Magpies and some scandalous revelations into Amelia's personal life. Switching from the perspectives of Kate's investigation to Amelia's diary, texts and online messages, in the months leading up to her death.
My first impression of Reconstructing Amelia was that it reminded me of Gossip Girl, because of the anonymously authored blog and the private school, set in New York. Girls can be so mean! I'd take my public high school education over a private school like this any day. It also reminded me of Law and Order: SVU and had me hoping that Olivia Benson would pop up.
The characters were interesting, especially Amelia who was a sweet girl who would have had a very promising future. From a real life perspective, it is easy for outsiders to put all the blame on the parents, when something goes wrong with a child. However the author writes of Kate's point of view as well as Amelia's. This allows readers to sympathize with the grieving mother and see just how hard she worked to raise her daughter and balance a demanding career. In my opinion I think she did the best she could have, although I had to shake my head when she realized who Amelia's father really was. There is a large cast of secondary characters, which offered many avenues for suspects. At times I became a bit confused trying to remember who was who, but it did make for a much more interesting journey to the truth.
Although the changes in the timeline threw me off initially I did adjust to it. The formatting with the blog posts, text messages, emails and Facebook statuses helped to keep the story current. I think this will be appealing to many readers. It also helps to move along the story, making for a quick read.
This book kept me very engaged and I flew through it because I just had to know what really happened. As I read and a new conflict was introduced I found myself wondering "is this person guilty?" "is that person guilty?" I imagined many different scenarios in my head as I went along.
Unfortunately I wasn't completely satisfied with the ending. Perhaps I wanted more justice to be served or a more dramatic conclusion. Reconstructing Amelia is listed as a thriller or suspense novel so I expected to be more emotionally engaged than I was. As a climax would reach its peak I waited to be shocked but in the end it didn't quite live up to that for me.
That being said it was still an enjoyable book that I would recommend to those who enjoy Young Adult, Contemporary fiction. Due to the formatting, Reconstructing Amelia would be best enjoyed in print or eBook format.