Hello everyone,
Hope you are all doing well and enjoying the summer weather.
Is it just me or does it seem like a large number of well known people have passed away over the past 6 months? Recently the world is mourning the loss of such greats as Muhammad Ali and Gordie Howe. Yesterday a former contestant from The Voice; Christina Grimmie was gunned down at an autograph signing. Then I woke this morning to hear the news of the nightclub shooting in Orlando, Florida. Terrible events like this really make you reflect on our lives and the state of the world today.
It makes me even more thankful for the opportunity to escape into the stories of my books.
My Reading Progress
Books Completed:
I admit that this wasn't my favourite Mary Higgins Clark book, but the story did keep my attention. I gave it a 3/5 rating.
Recent Posts:
Coming Up This Week:
Tuesday: Book Review: The Lightning Thief (Percy Jackson and the Olympians, #1) by Rick Riordan RATING: 4/5
Thursday: Book Review: Little House on the Prairie (Little House, #2) by Laura Ingalls Wilder RATING: 3/5
My partner and I are about half way finished listening to this on audio. Its been so long since I first read this book, so I am really enjoying being refreshed on the events of Harry Potter's first year at Hogwarts.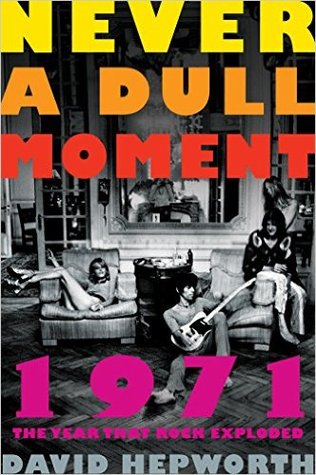 I was sent a copy of this book for review and it is a quite fascinating history lesson on rock music in 1971.
And that is all for today. Happy reading everyone!