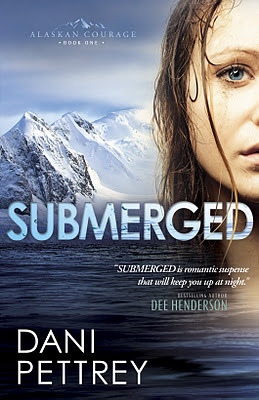 Title: Submerged (Alaskan Courage #1)
Author: Dani Pettrey
Published: April 2012
Published By: Bethany House
Format Read: Kindle for PC
Genre: Christian Fiction, Contemporary, Mystery
Date Read: December 21 2015
Rating: 5/5




After a difficult upbringing and a lot of bad decisions made, Bailey Craig found her faith and turned her life around. Still returning home to Yancey, Alaska and facing those who knew of her past was the last thing on her mind. Then Bailey gets a phone call with some devastating news; her beloved Aunt has died in a plane crash. So she rushes north to say her final goodbyes and handle the affairs pertaining to her inheritance; a Russian-American Post and antique shop. Her intended short stay in Yancey is extended when the circumstances surrounding the plane crash are determined to be suspicious.
Meanwhile deep-sea diver Cole McKenna (and Bailey's old flame) heads up the team that discovers the wreckage. When the investigation leads to the discovery connecting Bailey's Aunt with information regarding a Russian Icon, the two are thrown together to help the local authorities solve the mystery. Can they work together without letting their feelings and heartbreaks from the past get in the way?
These are a few of my favourite things:
Russian history, Alaska and a good mystery are some of my favourite things to read about. Submerged had all three.
Location, Location, Location:
The more books I read set in Alaska, the more I long to go there. Normally associated with harsh winters, this book was actually set in summertime. To be honest I didn't realize how beautiful the weather could get during that season there. The McKenna family's tour business really helped to give the reader an idea of all the things this small town had to offer. Not only did cruise ships dock there, but the outdoor activities including; diving, hiking, boating and more. The author did a great job of pairing this adventure story with its beautiful setting.
The History:
Having read the synopsis, I knew that this would have some sort of mystery to it, but I was pleasantly surprised to read of the Russian historical aspect of this book. Although a work of fiction, Pettrey used real facts to blend in and create a family connection to the characters.
The Characters:
Submerged features a wonderful cast of characters with storylines that set the stage for future books. I loved reading about Cole and the McKenna family. Although Bailey and Cole are the main characters in this first installment, readers get an introduction to the rest of the family, an aspect of the story I found equally enjoyable.
My Verdict:
I became so caught up in Submerged that I just wanted to keep reading and reading. It was an adventurous story from start to finish that kept me guessing. I can't wait to read the next book in the Alaskan Courage series. I would recommend this series to people who enjoy reading adventurous Christian fiction.