About The Magic Strings Of Frankie Presto
•
Hardcover:
512 pages •
Publisher:
Harper (November 10, 2015)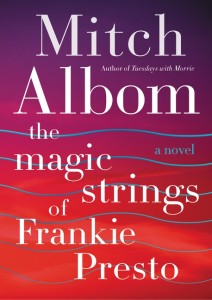 Mitch Albom creates his most unforgettable character—Frankie Presto, the greatest guitarist ever to walk the earth—in this magical novel about the power of talent to change our lives.
In Mitch Albom's epic new novel, the voice of Music narrates the tale of its most beloved disciple, Frankie Presto, a Spanish war orphan raised by a blind music teacher. At nine years old, Frankie is sent to America in the bottom of a boat. His only possession is an old guitar and six magical strings.
But Frankie's talent is touched by the gods, and it weaves him through the musical landscape of the twentieth century, from classical to jazz to rock and roll. Along the way, Frankie influences many artists: he translates for Django Reinhardt, advises Little Richard, backs up Elvis Presley, and counsels Hank Williams.
Frankie elevates to a rock star himself, yet his gift becomes his burden, as he realizes that he can actually affect people's futures: his guitar strings turn blue whenever a life is altered. Overwhelmed by life, loss, and this power, he disappears for years, only to reemerge in a spectacular and mysterious farewell.
With its Forrest Gump–like journey through the music world, The Magic Strings of Frankie Presto is a classic in the making. A lifelong musician himself, Mitch Albom delivers an unforgettable story. "Everyone joins a band in this life," he observes, be it through music, family, friends, or lovers. And those connections change the world.

Purchase Links
About Mitch Albom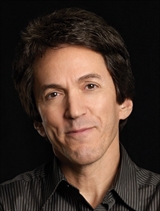 Mitch Albom is a bestselling novelist, a screen-writer, a playwright, and an award-winning journalist. He is the author of six consecutive number-one
New York Times
bestsellers and has sold more than thirty-four million copies of his books in forty-two languages worldwide.
Tuesdays with Morrie
, which spent four years atop the
New York Times
list, is the bestselling memoir of all time. Albom has founded seven charities, including the first-ever full-time medical clinic for homeless children in America. He also operates an orphanage in Port-au-Prince, Haiti. He lives with his wife, Janine, in suburban Detroit. Find out more about Mitch at
his website
, connect with him on
Facebook
, follow him on
Twitter
, and sign up for his
newsletter
.
Rating: 5/5
I was sent a copy of The Magic Strings of Frankie Presto by Mitch Albom, from the publisher via Edelweiss in exchange for an honest review.

Earlier this year I read Mitch Albom's book Have a Little Faith and just loved it. This authors writing style really captivated me and I couldn't wait to read more of his books. After enjoying his non-fiction, I was interested and curious as to how his style would transition to fiction.
If my 5/5 rating isn't indication enough, it is safe to say that I loved this book. I was just as captivated with Albom's fiction as I was with his non-fiction. The multiple time periods were right up my alley and the way he weaved real life people into Frankie's story was so imaginative.
Initially I was concerned that the shift between time periods would be confusing. The fact that most of the story is narrated by "Music" was quite different from anything I had ever read before. However the change in time was clearly noted and the narration offered readers a view of the characters life that was quite unique.
Although I have very little music ability myself and couldn't carry a tune in a bucket, I consider myself a music lover. Most specifically I enjoy classic Rock and Roll and have always had a keen interest in the 1950's and 1960's. So The Magic Strings of Frankie Presto was a real treat and learning experience for me. As I read along I was very eager to see what music icon would be introduced next.
I would definitely recommend The Magic Strings of Frankie Presto to music lovers young and old. This was such a clever story that I couldn't put down. I am very much looking forward to reading more by Mitch Albom.