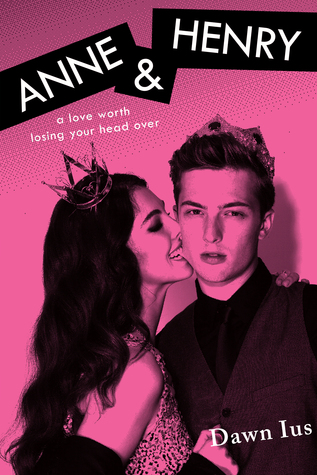 Title: Anne & Henry
Author: Dawn Ius
Published: September 2015
Published By: Simon Pulse
Format Read: Hardcover
Genre: Young Adult, Contemporary, Romance
Date Read: November 11 2015
Rating: 2/5
I won a copy of Anne & Henry by Dawn Ius from Goodreads, in exchange for an honest review.
After the death of his older brother Arthur, Henry Tudor has basically inherited his life. The perfect girlfriend, Student President and the expected Ivy League education and life in politics. However when a new girl moves into his elite town of Medina, he is captivated by her seduction. Can the troubled and provocative Anne Boleyn fit or will she steer Henry in a totally different direction in life? Author Dawn Ius was inspired by the tragic history of King Henry VIII and Anne Boleyn to recreate a modern day imagining with an American setting.
My Initial Impression
The idea of a modern day reimagining of Henry and Anne's story intrigued me and I thought that this could get quite dark. Then I became a bit sceptical after learning that it was set in an elite high school. So I went into this book with slightly lower expectations and a lot of curiosity as to how it would play out.
Is it just me or..
Is it just me or has Young Adult fiction become extremely sexual? Now I know what goes on in high school. I'm no saint myself. But reading this book left me feeling a bit uncomfortable. I am familiar with the real story of Anne Boleyn and how she wooed the King away from his wife, but that was a different time. This fictional character felt so over sexualized that it didn't feel believable. It really made me begin to wonder if at 28 years old I am too old for this genre. Or perhaps this book just wasn't for me. I felt that the 14 and up age recommendation was far too young for the content in this book. Despite my reservations I did continue on to complete it and there were parts that kept my attention.
Anne and Henry
Henry's point of view was the most enjoyable to me. His character felt the most believable of the pair. Despite his social status, he really was just a teenage boy with a world of expectations resting on his shoulders. I can see why he feel head over heels for Anne, but I can't say that I was rooting for them to be together. The truth is that Anne was a mess. A slutty mess. I never could understand her character or why she did the things she did. And oh the angst.
I'm not an expert on Tudor history, but I don't think that either of these characters are a good representation of their infamous counterparts. For this reason I don't think that history lovers would enjoy this book. If I were to recommend it to anyone, I would say perhaps older teens who enjoy smutty romances.