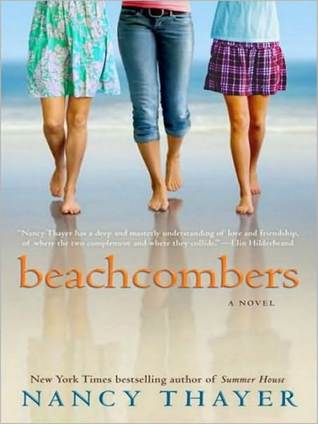 Title: Beachcombers
Author: Nancy Thayer
Narrator: Karen White
Published: June 2010
Published by: Tantor Media Inc.
Format Read: Audio, MP3
Genre: Contemporary, Romance
Date Read: May 30 2015
Rating: 3/5


Beachcombers by Nancy Thayer, centers around 3 sisters: Abby, a 30 year old nanny living in London, 28 year old financial broker Emma and 22 year old Lilly, who writes for a local magazine. Hit hard by the recession their widowed father Jim, decides to rent out the sisters old play house to a recent divorcee named Marina. Meanwhile Emma loses not only her job but her savings as well. Then to make matters worse her finance leaves her for another woman. With nowhere else to go she returns home to Nantucket, to her childhood home. After the death of their mother, Abby then 15 took on the role of mother raising her two younger sisters. So when she got word of Emma's situation and resulting depression, she quit her job and moved back home. Needing work the sisters decide to start a business offering sitting jobs, which leads them all down different paths. The story also follows the perspective of Marina as she begins a new life after her divorce and finds love with Jim.
When I think of Nantucket, I imagine wealthy people with mansion summer homes and yachts. It was refreshing that the author based this book around local everyday residents. However the jobs that the three sisters kept did put them in close proximity to the prominent vacationers, but this made for an interesting comparison between the two. The focus on those affected by the recession and their resulting struggles is something that many readers will be able to relate to.
I found the characters to be mostly likable and relatable, but there were times when I wanted to shake each of them. I would say that Lilly was my least favorite of the 4 women. She was really quite spoiled and materialistic, a result of her babied childhood. Emma was my favourite sister and I enjoyed listening as her relationship with Marina bloomed over the bond of their similar situations.
The storyline moved along at a good pace, although I thought some of the relationship developments were rushed. I find that this is common in the romance genre, though. The descriptions of the Nantucket setting, were beautiful and really helped to set the image in the readers mind.

The narrator for the story was Karen White. I thought she did a good job of making distinct voices for each of the characters, making it easy to tell who was who.
Although a predictable romance, I did enjoy Beachcombers and plan to read (or listen to) more by Nancy Thayer in the future. I would recommend it to those looking for a quick beach read.