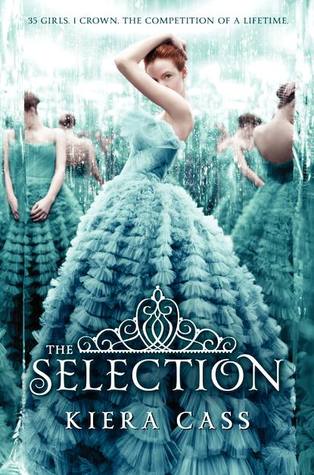 Title: The Selection
Author: Kiera Cass
Published: April 2012
Published By: HarperTeen
Format Read: Hardcover
Genre: YA Lit, Dystopian, Romance
Date Read: April 29 2015
Rating: 5/5




Set in the fictional country of Illea, Kiera Cass's The Selection is being compared to the reality television show The Bachelor, but with a royal twist, in a dystopian world. In a country that has its population divided up into numbers, called castes our main character America Singer, a musician is considered a 5. Although her family has had their struggles, she is content with her life and eager to make a future for herself and beau Aspen despite the fact that he is from a lower (more poor) caste than she is from. However when it is announced that the Prince is looking to marry, the opportunity is open for all girls of a certain age to join the competition of The Selection. Apsen insists that America sign up in hopes for a better life for her and her family and in turn breaks up with her once she has been chosen to represent their hometown. America's life is turned upside down as she makes the move, along with 34 other girls to the palace. Very much broken hearted and unsure of her future she and Prince Maxon build a friendship together as the number of Selected get smaller.
I have been hearing so much hype about this series, since it was first released and I was intrigued by the idea of a royal Bachelor competition. However once I learned that it was also set in a dystopian time period I was a bit put off. The reason for this is because that type of genre really doesn't interest me. When The Selection was picked for April's book club pick in one of the GoodReads groups I belong to, my curiosity got the better of me. In a bid to participate more in discussions I picked up a copy from my local library. However I must say that I was very leery going into the story because I didn't think I would like it.
Now after just finishing the final page, I am so thankful that I took the opportunity to give this book a shot. Why, you ask? Because I loved it! I just couldn't put this book down. Going in with such low expectations, I didn't expect to love it so much.
Set in a dystopian time period, I was worried that there would be more of a science fiction aspect to the story, with perhaps aliens or robots. But there wasn't. I was surprised that I found myself interested in what America's world looked like. Yet at the same time I think that it was good the author didn't go too far into detail on this because it might have put me off from enjoying the rest of the story.
As a teenager I was a big fan of Meg Cabot's Princess Diaries Series, so I believe this is one of the reasons why I enjoyed The Selection so much. It took an ordinary young woman and gave her a glimpse of royalty. The descriptions of the palace and its gardens were beautiful, despite the ruins throughout the country. Reading of the makeovers the girls received and their glamorous wardrobe is a dream for many. I couldn't help but get sucked in. America's love triangle between Prince Maxon and Aspen was interesting and the rebel attacks kept the story exciting.
I had read (or watched) reviews of The Selection where other bloggers found America to be extremely annoying, but I didn't find her to be so bad. Sure she forgot herself and wasn't as respectful of the Prince as she could have been, but I think she was just typical for her age.
I would recommend this book to those who enjoy chick-lit for young adults. For those who may not be interested in the dystopian genre, I'd say for them to give it a shot. I did and I wasn't disappointed. I've very much looking forward to reading the next books in this series.