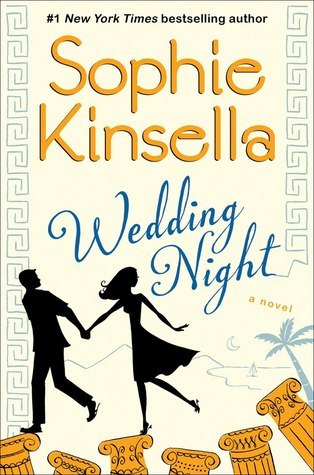 Title: Wedding Night
Author: Sophie Kinsella
Published: April 2013
Published By: The Dial Press
Format Read: eBook, Kobo
Genre: Contemporary, Romance, Chick-Lit, Humor
Date Read: April 26 2015
Rating: 3.5/5


When Lottie's boyfriend Richard invites her to a nice intimate restaurant with a surprise for her, she immediately assumes that he is finally going to propose. Past the age of 30, she is more than ready to walk down the aisle and start a family, something she thought he would want too. Unfortunately when the surprise turns out to be a holiday, Lottie is crushed and ends their relationship right then and there. Meanwhile after hearing the news of the breakup, Fliss (Lottie's older sister) prepares for her meltdown. You see, Lottie is known to make drastic decisions after a bad breakup, anywhere from joining a cult to regrettable piercings. This time, Fliss didn't know what to expect. Then one day not long after ending things with Richard, Lottie is reunited with a blast from her past: Ben an old boyfriend from a summer 15 years earlier in Greece. He reminds her of an agreement they once made: if they were still both unmarried at 30, they would marry each other! As Lottie and Ben prepare for their big day, Fliss and best man Lorcan are trying to do everything in their power to stop the marriage. Even if it includes following the couple back to Ikonos Greece and the place they met.
Wedding Night is a fast moving novel that alternates between the two sisters perspectives. It is a typical Kinsella story that is realistically unrealistic, yet humorous enough to allow for the reader to find it enjoyable. There were several laugh out loud moments, most specifically when Fliss makes a hot air balloon for her son's school project using a condom and several mentions of "putting the sausage in the cupcake." Those examples still have me giggling days later. The setting in Ikonos Greece sounded absolutely beautiful, a perfect place for a honeymoon or a summer abroad.
I am beginning to notice that many of this authors characters are very much alike or at least they have very similar characteristics and personalities. I don't think that this will stop me from reading more of her novels, but it would be nice to have some variation.
Now that I am looking back on the previous Sophie Kinsella books I've read, I realise that I haven't rated any of them over 3.5 stars. Although they aren't my absolutely favourite books, I would rank her among my favourite authors and would recommend them to others. Strange isn't it? One thing about this author is that whenever I see a book with her name, I pick it up or add it to my TBR list. I do this because I know that regardless of its plotline, I will be entertained. Although they won't blow you away, Kinsella's books are worth reading.
I would recommend Wedding Night to chick-lit lovers, looking for a quick beach read.