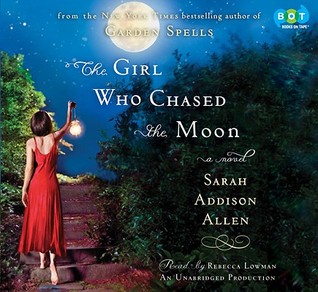 The Girl Who Chased the Moon
By: Sarah Addison Allen
Published: March 2010
Published By: Books on Tape
Format Read: Audio Book
Genre: Contemporary Romance, Magical Realism
Rating: 4/5
🌟🌟🌟🌟
Emily Benedict is sent to live with her Grandfather, after her Mother's untimely death. Not only is he a real life giant, but the small South Carolina town of Mullaby is home to many magical secrets. One of which was the catalyst for Emily's Mother leaving town. She befriends neighbor Julia Winterson, owner of a local BBQ restaurant and baker of the most delicious cakes.
The Girl Who Chased the Moon by Sarah Addison Allen is a contemporary novel with dusting of magic. Normally fantasy or magical realism isn't my cup of tea, but I decided to give this one a shot anyway. And in the end I was happy that I did.
The author painted a beautifully magical picture of the small southern town of Mullaby. The characters were charming with detailed backstories. Rebecca Lowman was a good fit as narrator for this book and kept me engaged throughout.
While I really enjoyed the contemporary romance story-line, I found that the explanations behind the mystery and magic to be a bit underwhelming. I had hoped it would be more exciting or shocking.
Still I think that The Girl Who Chased the Moon by Sarah Addison Allen was a good book and worthy of a 4 star rating. I would recommend this book to fans of lightly magical contemporaries. I will consider reading more from this author in the future.