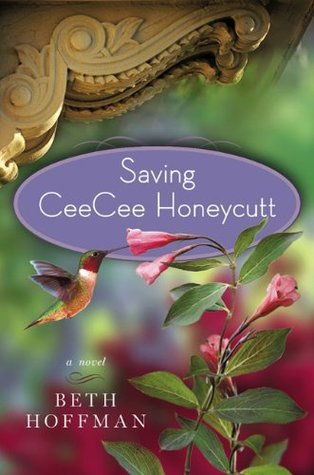 Title: Saving CeeCee Honeycutt
Author: Beth Hoffman
Published: January, 2010
Published By: Penguin Books
Format Read: eBook, Kobo
Genre: Historical Fiction
Date Read: April 28, 2016
Rating: 5/5
CeeCee Honeycutt had a difficult childhood growing up with a psychotic mother. Her father –a travelling salesman was rarely home, which left the little girl in the role as caregiver as her mother's health continually declined. Mrs. Honeycutt would often revert back to her youth as a southern belle beauty queen, dressing up in gowns and wandering around town waving to her "fans". Her odd behaviour resulted in a very lonely life for her daughter and books became CeeCee's only solace. Then one day her mother's life was tragically cut short and she was sent to live in Savannah Georgia with her Great Aunt Tootie.
First impressions and expectations:
Goodreads describes Saving CeeCee Honeycutt as a mix of Steele Magnolia's and The Help, which made me very eager to dive into this book. As I began I was instantly reminded of The Secret Life of Bee's and a light dose of Divine Secrets of the Ya-ya Sisterhood, two titles I really enjoyed. Needless to say I began it with high expectations.
Hoffman and Kidd:
The tone of the writing was reminiscent of Sue Monk Kidd (The Secret Life of Bees) because it was written from the point of view of a young girl in the 1960's. CeeCee was a smart girl who did her best to make her way in life without the guidance of her parents. Her curiosity and willingness to learn made her such an interesting and likable character. With its southern setting the civil rights movements during the time was also mentioned, along with numerous other cultural references from the era.
Comparing Mental Illness:
Beth Hoffman used some wonderful imagery and metaphors to describe CeeCee's story. One particular example that I found effective was where mental illness was compared to a battlefield and a long fought interior war. This was just one example of many that made me stop, re-read and reflect.
Independent Women:
Like Rebecca Wells Divine Secrets of the Ya-Ya Sisterhood, Hoffman also features a wonderful cast of strong willed and independent women. There was no shortage of wisdom shared to CeeCee. Although some of the characters weren't as favourable as others, they too brought humor and excitement to the story.
Recommendations:
Saving CeeCee Honeycutt is very deserving of a 5 star rating. It had just the right combination of tragedy, humor and excitement. I highly recommend this book to fans of books set in the south during the 1960s. It was such a wonderful reading experience and one I intend to read over and over again.