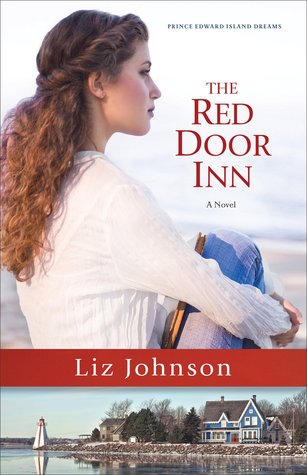 Title: The Red Door Inn (Prince Edward Island Dreams #1)
Author: Liz Johnson
Published: March 1, 2016
Published By: Revell
Format Read: Trade Paperback
Genre: Contemporary, Christian Fiction
Date Read: March 24, 2016
Rating: 3.5/5
I was sent a copy of The Red Door Inn (Prince Edward Island Dreams #1) by Liz Johnson from the publisher in exchange for an honest review.
A traumatic incident has left Marie Carrington in need of a safe haven and what better place to go than the place the held all of her childhood fantasies: Prince Edward Island. Sitting at the ferry-boat terminal, she counts her meager dollars, knowing she doesn't have enough to pay her fare. It is then that she would meet an older man by the name of Jack Sloane. Out of the goodness of his heart he would pay for her fare and then go on to offer her a place to stay in his home. After all it was what his late wife would have wanted him to do.
Marie would accept his offer for room and board in exchange for her help with the renovations of his new bed and breakfast. Along with Jack's heartbroken nephew Seth, the unlikely trio work to meet the looming opening deadline, while tackling an array of setbacks.
More about the story:
Marie and Seth have a tug-of-war storyline throughout as they help Jack prepare to open his bed and breakfast. They both struggle with letting each other get too close due to their past experiences. Aside from their struggle is a cast of wonderful secondary characters which include; the man of few words –Jack, a local antique store owner –Aretha Franklin (no relation to the singer) and a young baker named Caden Holt.
First impressions:
I was instantly drawn to this book by the title of the series: Prince Edward Island Dreams. Like our main character Marie, that beautiful island is one of my dream locations and has been ever since I read Lucy Maud Montgomery's classic Anne of Green Gables. Each mentioned of the beloved author and her little red headed orphan brought a smile to my face as I read along.
Island hospitality:
Author Liz Johnson did a good job of portraying the welcoming hospitality of the maritime people. I enjoyed the seaside setting of North Rustico and the mention of locations I've have the opportunity to visit myself: Charlottetown and Cavendish.
The bed and breakfast renovation also appealed to me as a lover of HGTV. The idea of staying in an old charming Victorian home with a delicious spread of baked goods each morning is just wonderful.
Marie's panic attacks:
Although The Red Door Inn was an enjoyable story as a whole, I really struggled with it in the beginning. The reason for this is because of the severe panic attacks that often came over Marie, as a result of her past trauma. As someone who experiences panic attacks myself, it was absolutely nerve wrecking to read about. At times I had to put the book aside and calm myself down before continuing. At times I thought of not finishing it, but my love for Prince Edward Island kept me reading.
Being able to entice emotions within a reader is a strong writing quality and the mark of an effective author. I do look forward to reading more from Liz Johnson and continuing with this series, even though I struggled with this book.
Recommendations:
The Red Door Inn is a Christian novel and therefore wasn't graphic, however Marie's trauma may be a trigger for those who have had similar experiences. For this reason I wouldn't recommend it to those who may be uncomfortable with difficult subject matter. Although I would recommend it to others who enjoy the contemporary Christian fiction genre.