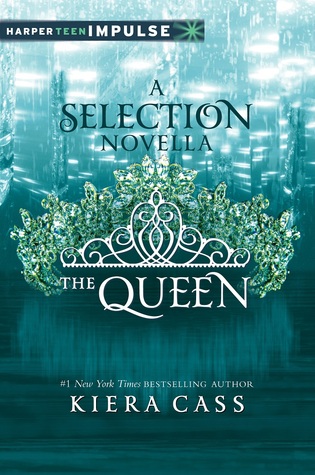 Title: The Queen (The Selection 0.4)
Author: Kiera Cass
Published: December 2014
Published By: HarperTeen Impulse
Format Read: eBook, Kobo
Genre: Novella, YA Lit, Dystopian
Date Read: March 3, 2016
Rating: 4/5
In Kiera Cass's novella The Queen, readers are taken back to a time before America was chosen to be part of The Selection and even before Prince Maxon was born. Back to The Selection that would marry Prince Clarkson to a poor young "4" from Honduragua. This is Queen Amberly's story.
Last year I read the first book in The Selection series, with an online book club. It was something I was curious about but didn't think I would enjoy. Much to my surprise I loved it! A couple of weeks ago I went out on bought the boxset. However The Queen novella came to the top of my To Be Read pile before the second book did and once again I dove into this strange world.
At only 72 pages long, this novella gave us an idea of Queen Amberly's background and how she came to win the attention of Prince Clarkson and eventually the crown. Keeping in mind that I don't know much about the coming books in the series, I came to really like her character and her determination to rise above her caste. We also learn more about Clarkson's parents the former King and Queen.
Although this story takes place before the rest of the series, I think it would be best enjoyed by those who are already fans of The Selection. The reason for this is that due to its short page count, it doesn't go into a lot of detail about the world or the caste systems. I think that this would be confusing to a reader who hasn't at least read the first book.