About The Bookshop on the Corner
• Paperback:
368 pages
• Publisher:
William Morrow Paperbacks (September 20, 2016)
"Losing myself in Jenny Colgan's beautiful pages is the most delicious, comforting, satisfying treat I have had in ages."—Jane Green, New York Times bestselling author of Summer Secrets
Nina Redmond is a literary matchmaker. Pairing a reader with that perfect book is her passion… and also her job. Or at least it was. Until yesterday, she was a librarian in the hectic city. But now the job she loved is no more. Determined to make a new life for herself, Nina moves to a sleepy village many miles away. There she buys a van and transforms it into a bookmobile—a mobile bookshop that she drives from neighborhood to neighborhood, changing one life after another with the power of storytelling. From helping her grumpy landlord deliver a lamb, to sharing picnics with a charming train conductor who serenades her with poetry, Nina discovers there's plenty of adventure, magic, and soul in a place that's beginning to feel like home… a place where she just might be able to write her own happy ending.

Purchase Links
About Jenny Colgan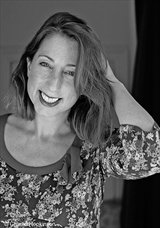 Jenny Colgan is the
New York Times
bestselling author of numerous novels, including
Little Beach Street Bakery, Christmas at Rosie Hopkins' Sweetshop
, and
Christmas at the Cupcake Café
, all international bestsellers. Jenny is married with three children and lives in London and Scotland. Find out more about Jenny at her
website
, and connect with her on
Facebook
and
Twitter
.
I was sent a copy of The Bookshop on the Corner by Jenny Colgan, from HarperCollins and TLC Book Tours in exchange for an honest review.
Jenny Colgan's The Bookshop on the Corner was a delightful story of a woman who forges a new life for herself after losing her job.
I was able to relate to the main character Nina, in so many ways. Not only am I the same age as her, but her need to create a new life for herself mirrors my own situation. Even though The Bookshop on the corner is fictional, it is inspirational in that starting over is possible.
I enjoyed the authors laid back writing style, which made for a quick and entertaining story. This book was host to a cast of wonderful characters. The rural Scotland setting and the culture was beautifully described.
My one problem was that the title is a bit misleading, as Nina's business is mobile and ran out of her van. The Bookshop on the Corner implies to me that it is an actual shop in a building. Thankfully this didn't take away from the story for me.
Nina's passion and knowledge of books will be very appealing to readers. I would recommend The Bookshop on the Corner to fans of contemporary fiction. I look forward to reading more from Jenny Colgan in the future.